Taiwan Stands With Ukraine.
I am an artist who typically focuses on capturing the everyday life of cities in my artwork. However, since the outbreak of full-scale war between Russia and Ukraine on February 24th, 2022, the concept of "average life" has become meaningless for me. As I continue to learn about the scope and severity of this catastrophe and the terror it has brought, I have been searching for ways to take action and stop the war. In my search, I discovered a rally in Taipei and decided to attend. It was there that I met many amazing people from all over the world who had come together to support the Ukrainian people. I want to honor these wonderful individuals and our meetings that provided some solace in the midst of the ongoing conflict through my artwork.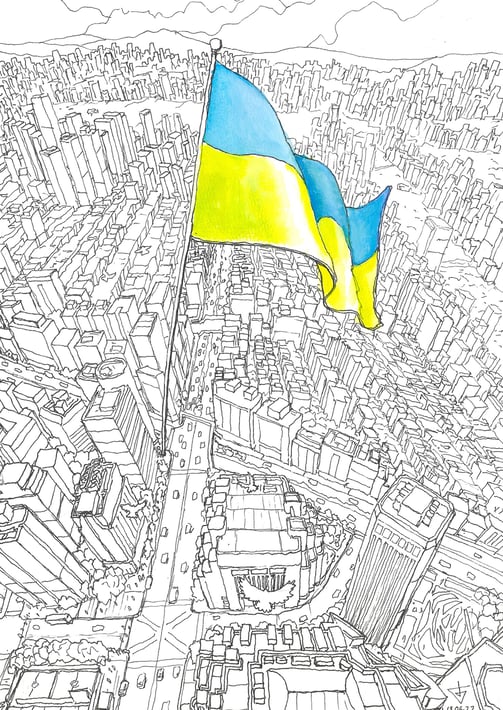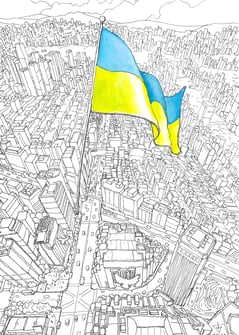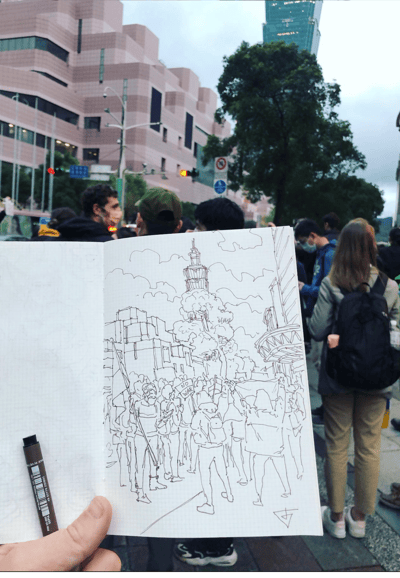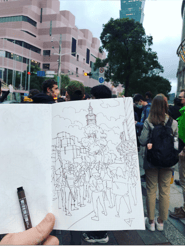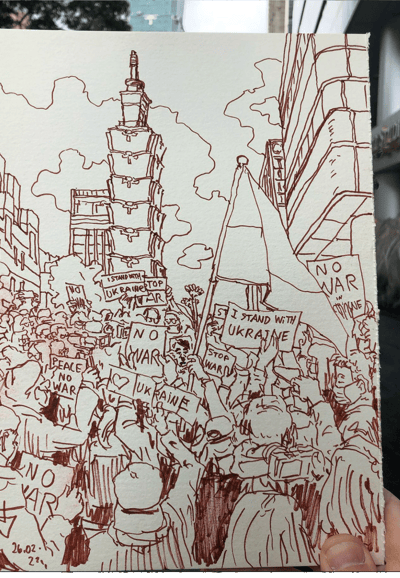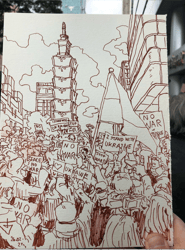 The sketch on the left depicts my first ever rally, which took place in Taipei on February 25th, 2022, near the "Moscow representative office". I was desperate for answers and hope in the face of the Russian invasion in Ukraine, so this day I leave my job and rushed to this meeting. It was a powerful and meaningful experience for me, and I hope to capture that through my artwork."
The following day, there was a larger turnout at the rally and all of the Taiwan media was present. For the next month, I attended every meeting and rally that I could, and it was an amazing experience to meet so many kind and compassionate people who were dedicating their time and resources to supporting the Ukrainian people. It was truly inspiring to be a part of such a supportive and caring community.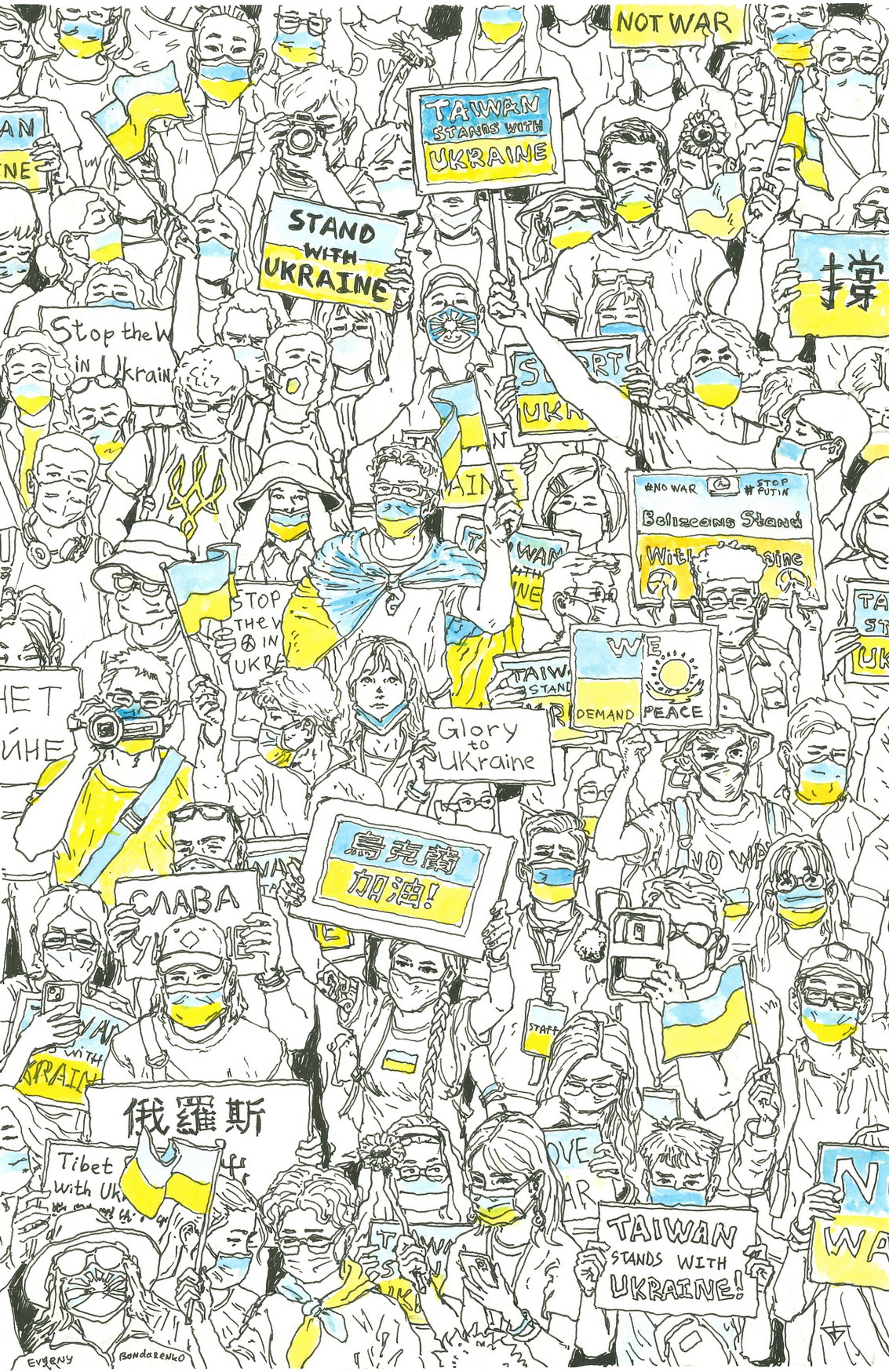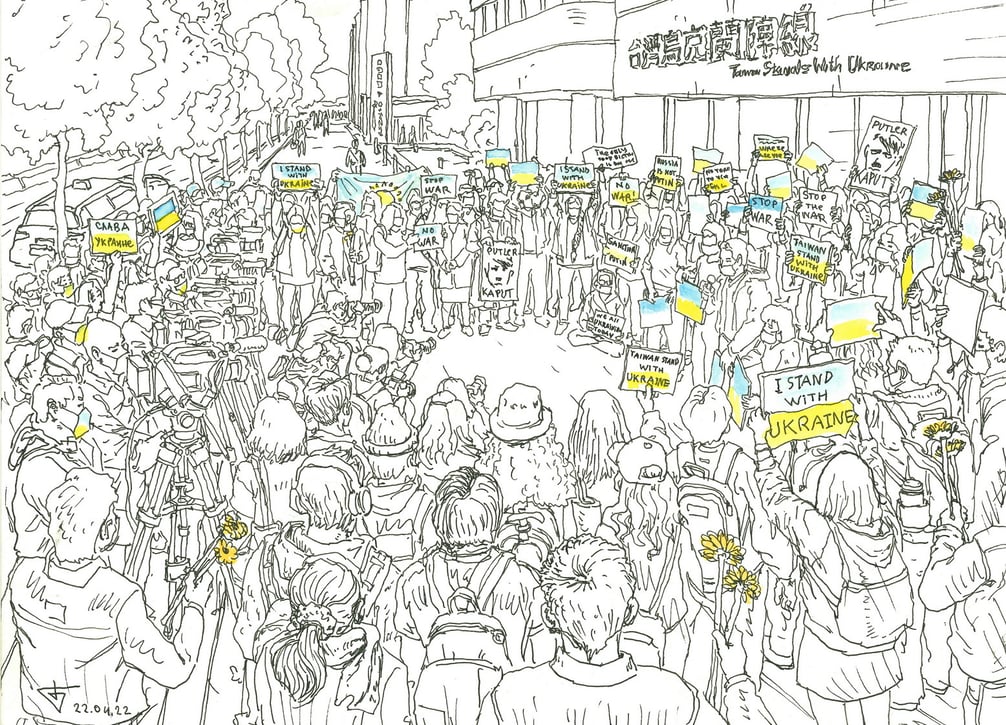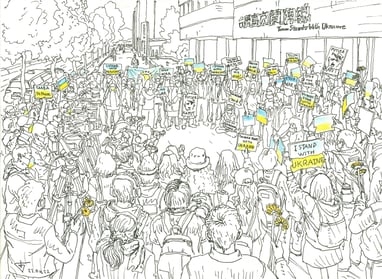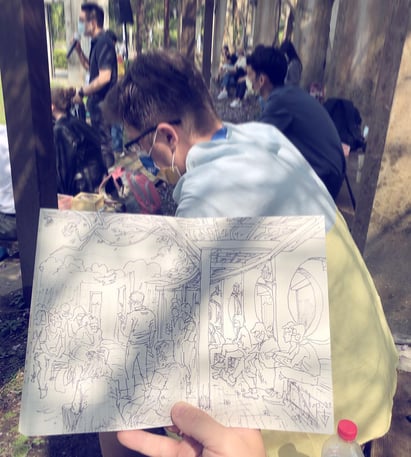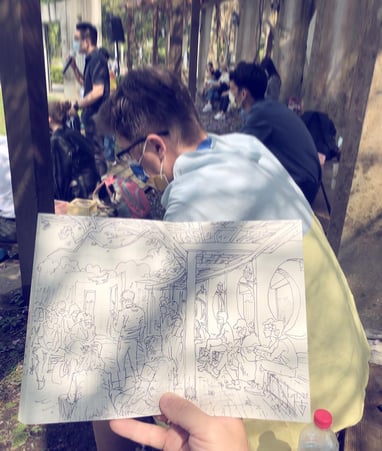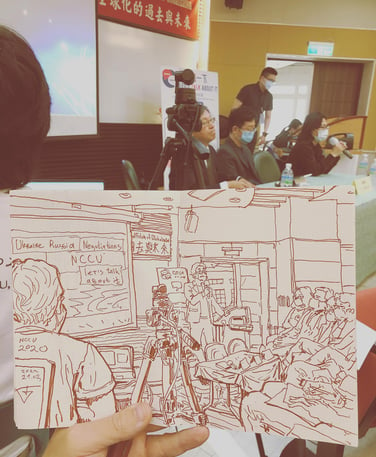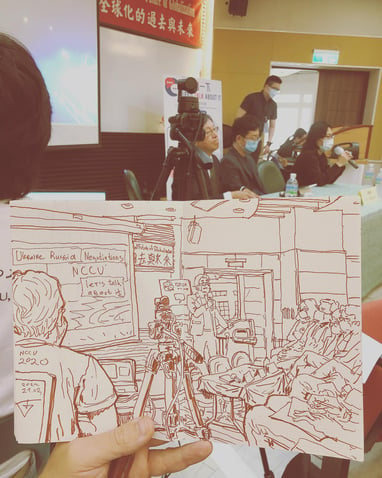 These two sketches are just a few of the ones I created at various events during this time. I believe that it is important for our movement to be represented in various media in order to raise awareness and amplify our message. As an artist, I feel a responsibility to contribute to this cause through my art. These sketches are my way of expressing my support and solidarity with the Ukrainian people and all those working towards peace and justice.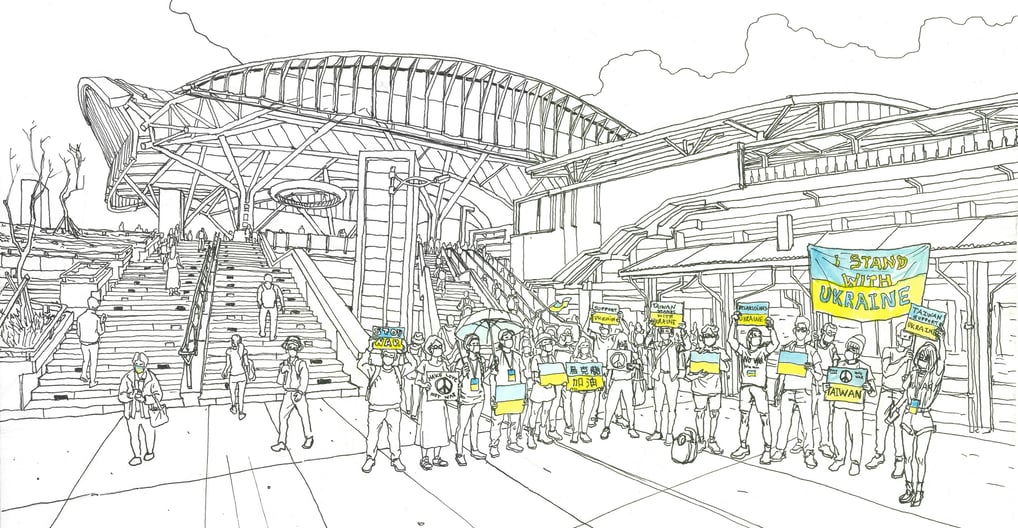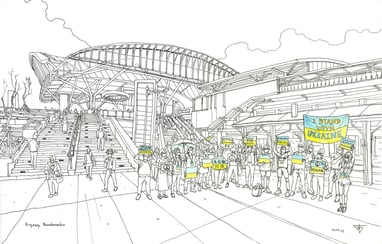 The rallies in support of Ukraine near the Moscow representative office in Taipei were a constant presence, taking place rain or shine. One memorable moment during this time was when we noticed a school bus that passed by our rallies every afternoon. We noticed that the kids on the bus had made posters expressing their love and support for Ukraine. This touched our hearts and every time the bus passed by, the protesters would wave and greet the kids, who would hold up their posters in response. It was a small but meaningful exchange that brought a sense of hope and positivity.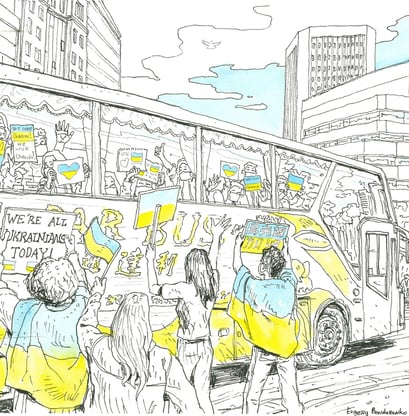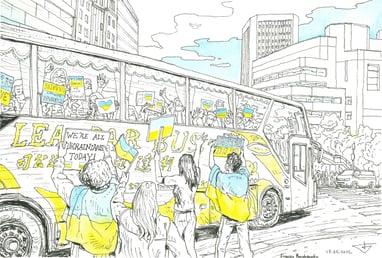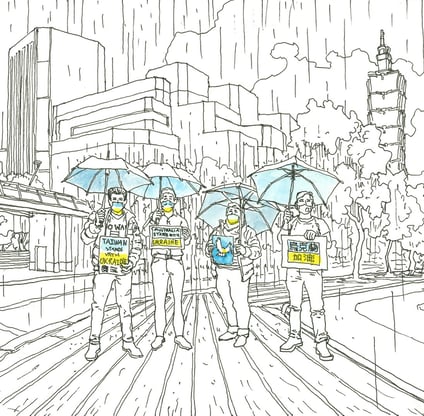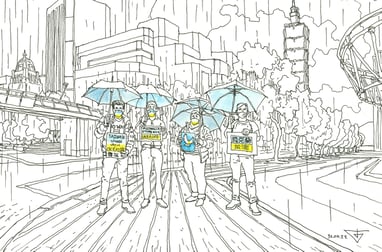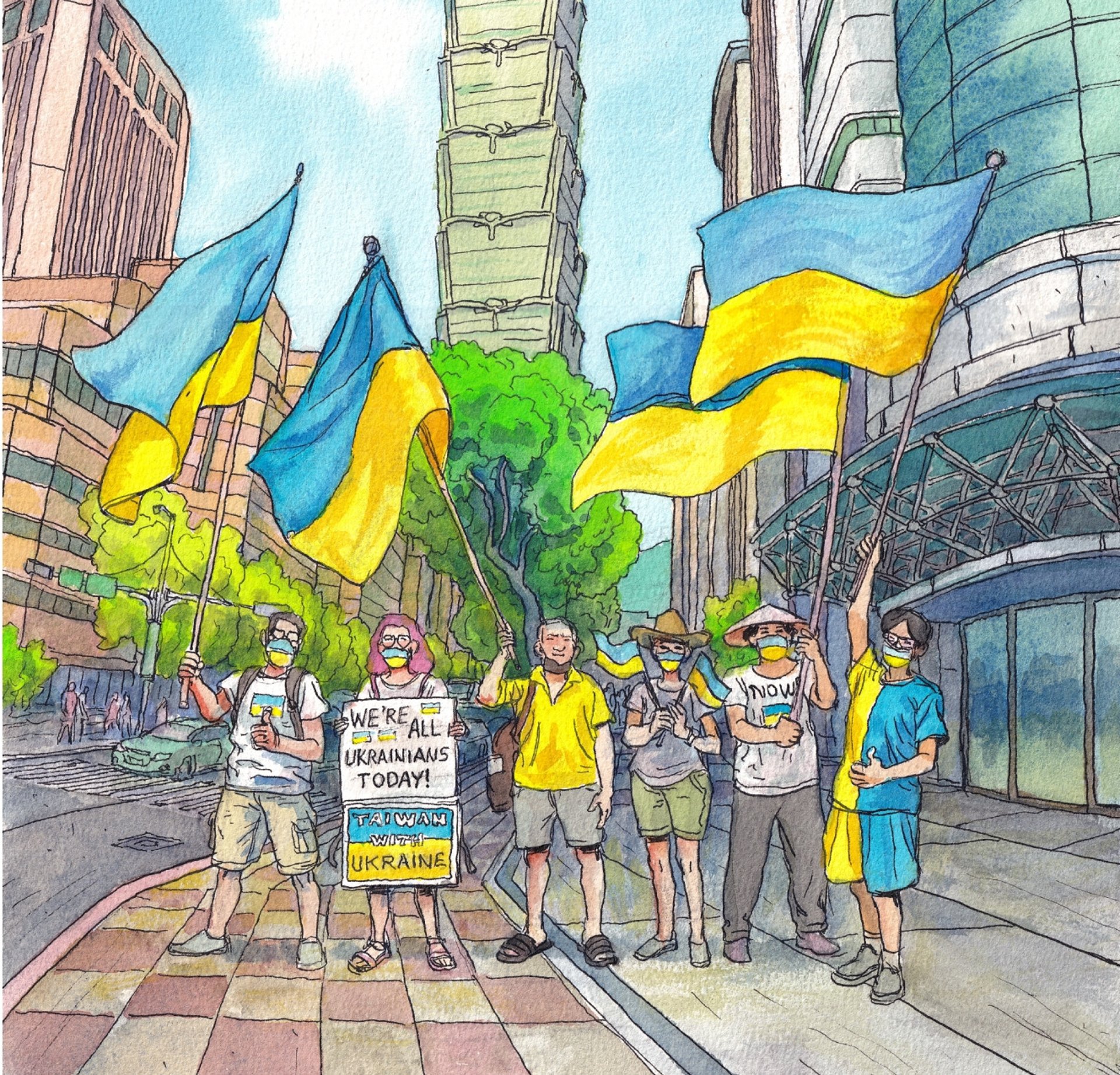 Charity exhibition in Taipei.
In the period of June-August 2022, I held a personal exhibition at the RedRoom Rendezvous. We were able to sell some pieces and all of the proceeds (minus the cut for the venue owners) were donated to charity. There are still some original pieces available for purchase, and if you are interested, please contact me to make arrangements. All of the drawings I created for the TWSWU movement were meant to raise awareness and gather funds to support those suffering in Ukraine due to the war.