Personal Exhibition, "Bukowski"
The recent "Immortal Genius CHARLES BUKOWSKI" exhibition held at the Art Laboratory JAM in Moscow, Russia, was a captivating showcase of the graphic works by renowned artist Evgeny Bondarenko. This exhibition paid homage to the legendary American writer Charles Bukowski, whose raw and gritty works have captivated readers around the world. With Bondarenko's masterful use of lines, textures, and contrasting shades, his artworks beautifully conveyed the emotional intensity and rebellious spirit that are characteristic of Bukowski's writing. The exhibition also featured a special event on the opening night, where Bukowski's poems were read aloud accompanied by live music. The exhibition was a celebration of the creative synergy between visual art and literature, leaving a lasting impression on visitors and highlighting the enduring influence of Bukowski's literary legacy in the world of art and culture. Curator: Art Laboratory JAM Moscow, Russian Federation
EXHIBITIONS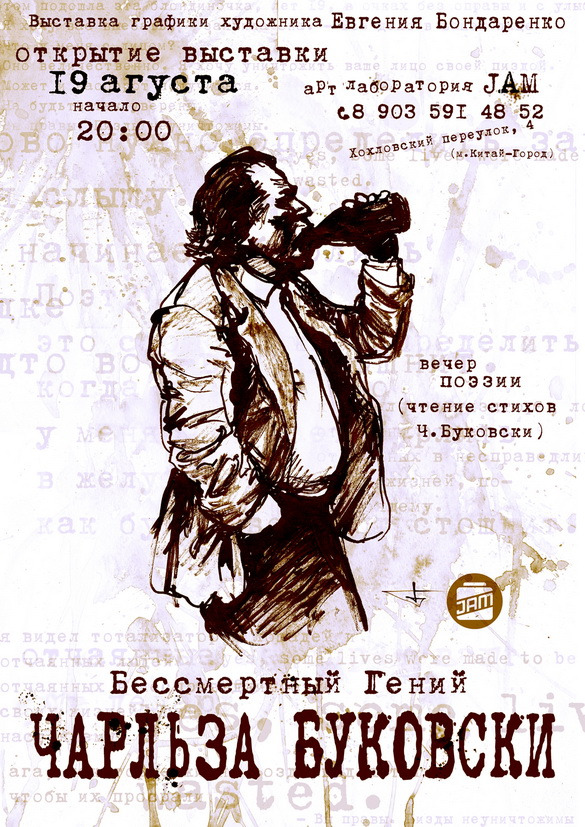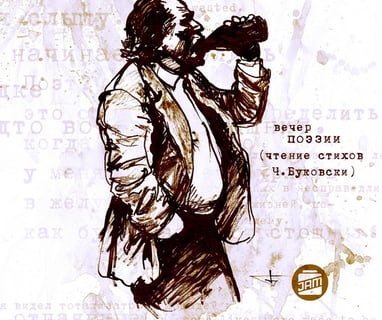 The art world in Moscow was recently abuzz with the opening of the "Immortal Genius CHARLES BUKOWSKI" exhibition, showcasing the graphic works of renowned artist Evgeny Bondarenko. Held at the Art Laboratory JAM in Khochlovskiy Pereulok, near Metro Kitay-Gorod, the exhibition took place on August 19th.
Evgeny Bondarenko, known for his distinctive style and attention to detail, has gained recognition for his artistic interpretations of various literary figures. In this exhibition, he paid homage to the legendary American writer Charles Bukowski, whose raw and gritty works have captivated readers around the world. The exhibition featured a collection of Bondarenko's graphic works, which beautifully captured the essence of Bukowski's writing. With skillful use of lines, textures, and contrasting shades, Bondarenko's artworks conveyed the emotional intensity, vulnerability, and rebellious spirit that are characteristic of Bukowski's works.
In addition to the visual art, the exhibition also included a special event on the opening night - a reading of Charles Bukowski's poems accompanied by live music. The combination of Bukowski's evocative words and Bondarenko's expressive illustrations created a multi-dimensional experience that brought the literary genius to life in a new way.
Visitors to the exhibition were enthralled by Bondarenko's masterful artwork, which captured the essence of Bukowski's writing in a unique and thought-provoking manner. The exhibition provided an opportunity for art enthusiasts and literary aficionados alike to appreciate the creative synergy between two different art forms - visual art and literature.
The "Immortal Genius CHARLES BUKOWSKI" exhibition by Evgeny Bondarenko was a resounding success, leaving a lasting impression on those who attended. It was a celebration of the artistic legacy of Charles Bukowski and a testament to the enduring power of literature to inspire and influence other forms of art. The exhibition served as a reminder of the profound impact that great writers like Bukowski continue to have on the world of art and culture.