Anji Beauty in the Eyes of a Russian Artist's Artistic Journey in China"
Anji, a small town in China, has captured the heart of 28-year-old Russian artist, Evgeny Bondarenko. Drawn to the town's scenic landscapes, fresh air, and friendly locals, Jie Nia has been living in Anji for the past five months, documenting his experiences through art. In addition to taking photographs, Jie Nia uses his paintbrush to capture the beauty and culture of the town. He has even held an exhibition of his work, created during his stay in Anji. In this article from Anji News, Evgeny shares his love for Anji and the experiences he has had during his time there.
PUBLICATIONS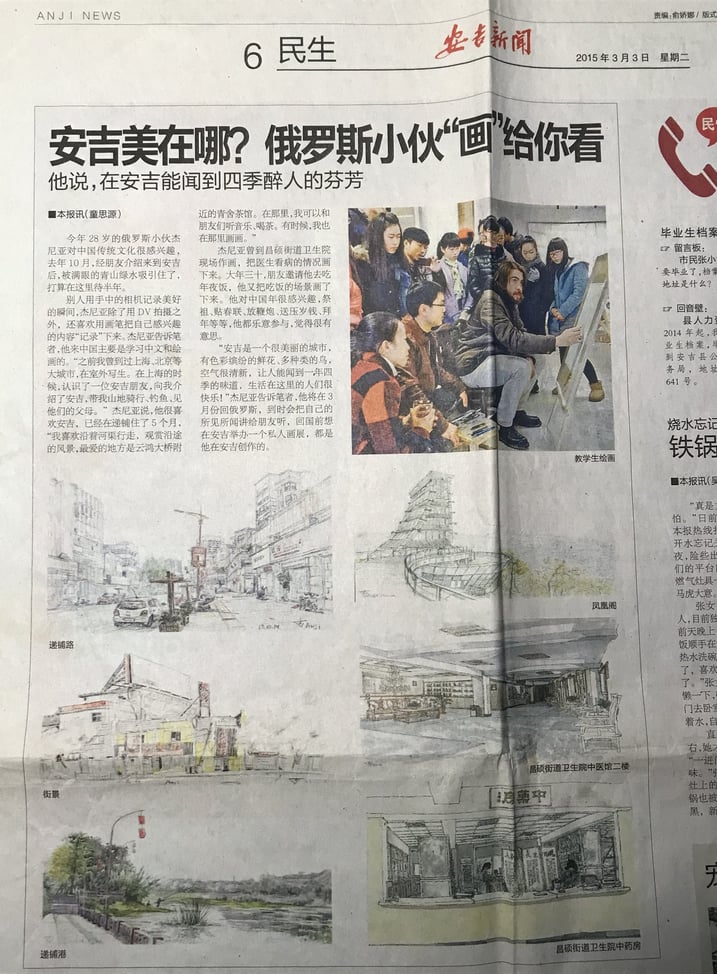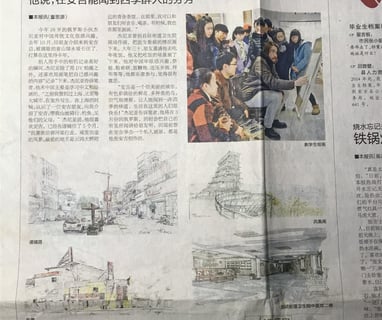 ANJI NEWS Editor: Yu Jiaona / Layout: Guan ANJI
Where is the beauty? Russian man shows you with his art
He says, in Anji, you can smell the intoxicating fragrance of all four seasons Reported by Tong Siyuan At the age of 28, the Russian young artist, Evgeny Bondarenko, has a keen interest in Chinese traditional culture. Introduced by a friend, he came to Anji in October last year and was captivated by the picturesque mountains and green waters here, planning to stay for half a year.
While others capture beautiful moments with their cameras, Evgeny not only uses a DV to record, but also likes to "record" his own interests with a paintbrush. Evgeny told the reporter that he came to China mainly to learn Chinese and painting. "I have been to big cities like Shanghai and Beijing before, doing outdoor sketching. When I was in Shanghai, I met a friend from Anji who introduced Anji to me, and took me mountain biking, fishing, and introduced me to their parents." Evgeny said he likes Anji very much and has been staying here for 5 months. "I enjoy walking along the rivers and canals, admiring the scenery along the way. My favorite place is the Qing She Teahouse near Yunhong Bridge. There, I can listen to music, drink tea with friends, and sometimes even paint."
Evgeny Bondarenko has painted scenes at Changshuo Street Health Center, depicting the situation of doctors treating patients. On New Year's Eve, he was invited by friends to have a reunion dinner, and he also painted the scene of the dinner. He is very interested in Chinese New Year traditions, such as ancestral worship, pasting spring couplets, setting off firecrackers, giving red envelopes, and paying New Year's greetings, and he is willing to participate and find them very interesting.
"Anji is a beautiful city with colorful flowers, various kinds of birds, and fresh air that lets you smell the fragrance of all four seasons throughout the year. People living here are very happy!" Evgeny told the reporter that he will return to Russia in March and share his experiences with his friends. Before leaving, he plans to hold a private art exhibition in Anji, showcasing his works created in Anji.