Personal exhibition "Weekdays — Russian Artist in Shanghai"
"Sketching Shanghai: A Humane and Cosy Art Exhibition Experience" is an article that recounts a first-person experience of an artist's exhibition in Shanghai. The author takes the reader on a journey through their time in Asia and how the city of Shanghai left them in awe. The author then describes how they were invited to participate in an exhibition at a small gallery in a local market. The article highlights the artist's unique concept of sketching a view of the local area or market every day and attaching it to the gallery wall. The author also describes how they formed connections with market workers, children, and other artists, resulting in a humanely enriching experience. The exhibition is portrayed as a cosy and emotionally recharging adventure, with an impactful and inspiring conclusion. The article offers an intimate insight into the artist's experience, which readers can relate to and appreciate. Start Date: Mar 18, 2013 End Date: Mar 31, 2013
EXHIBITIONS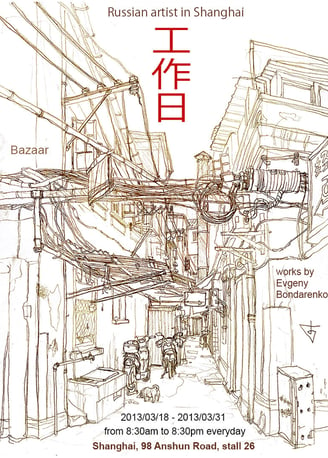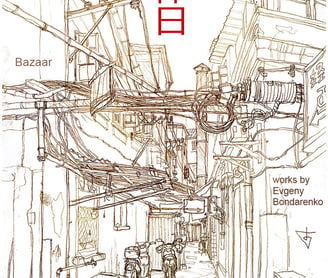 Sketching Shanghai: A Humane and Cosy Art Exhibition Experience
I remember my first art exhibition in Shanghai back in 2013. It had been a month since I was invited to be an artist in The Swatch Art Peace Hotel art residency. It was my first time in Asia, and Shanghai was a city that blew my mind away. The culture shock and ocean of new experiences were overwhelming, but I loved it. As usual, I went urban sketching on the streets and made new friends along the way.
One day, I met the owner of a small gallery at a local Shanghai market. It was an average casual location, typical for locals but still mind-blowing for foreigners like me. The gallery was located in one of the booths alongside other market booths. People who came to buy some vegetables or groceries would notice the art exhibition in this small gallery. The gallery exhibited a new artist every two weeks, and I was invited to participate.
I chose the concept of sketching a view from the local area or directly from the market every day and attaching it to the wall in the gallery. Local people could see the progress of my work and see their area through the eyes of a foreign artist. I spent a lot of time along with those booths and benches, getting to know market workers. Even without any language knowledge, we were able to have some basic conversations and exchange happy emotions. I met many children of workers who were running around without any business. One day, they noticed my exhibition and me drawing. They looked at how I drew and asked me to draw something for them. Some asked me to draw their toy, while others asked me to draw a small copy of my artwork that they found interesting. They also started to play inside the gallery, playing art experts and art collectors.
One day, a young artist from the local area approached me and told me how much she appreciated my work and how much inspiration it gave her. This exhibition was one of the most emotionally recharging and cosiest experiences I have ever had. I had a great humane experience that turned out to be an interesting adventure. It was definitely one of my favourite exhibitions that I have ever had.