Don Palette, the regional festival of arts
Reception Date: Sep 08, 2010 Rostov-on-Don Russian Federation
EXHIBITIONS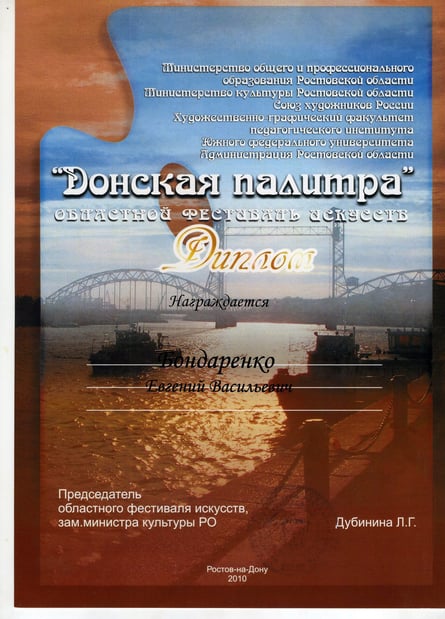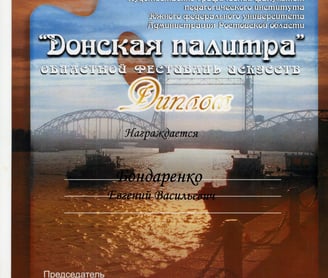 The Ministry of General and Vocational Education of the Rostov Region, the Ministry of Culture of the Rostov Region, the Russian Union of Artists, the Art and Graphic Faculty of the Pedagogical Institute of the Southern Federal University, and the Administration of the Rostov Region collaborated to organize the "Don Palette" regional art festival.
At the festival, which was held in Rostov-on-Don, Evgeny Bondarenko was awarded a diploma for his outstanding contributions to the world of art. The festival was chaired by Dubinina, the Deputy Minister of Culture of the Rostov Region. The festival was a celebration of the diverse artistic talents in the region and showcased a wide range of art forms, including painting, sculpture, and graphic design.
Evgeny Bondarenko's artistic achievements were recognized with this award, which reflects his exceptional talent and dedication to the arts. His contribution to the festival was particularly noteworthy, and he was commended for his unique artistic style and his ability to convey powerful emotions through his work.
The "Don Palette" regional art festival was a resounding success, providing a platform for emerging and established artists to showcase their work and connect with a wider audience. The festival was a testament to the rich cultural heritage of the Rostov Region and the talent and creativity of its people.